Residential Window Safety 3M™'s Impact Protection System
Destructive Weather Conditions
Smash and Grab Burglaries
Terrorism
Explosions
Unexpected Accidents
Hurricanes
3M's Impact Protection System helps maintain the integrity of a structure's outer shell to keep wind, rain and flying glass shards from wreaking havoc inside the residence.
Our system also rejects harmful UV rays, which cause fading and, the sun control versions help lower energy costs.
Request a no obligation, free consultation & estimate at your residence.
Proven, Affordable Solutions Your Shield for Better Safety, Security, and Accident Prevention
The 3M Impact Protection System for glass is a virtually invisible safety system, applied to the interior of the glass, and bonded to the frame of each window. Once applied, this system provides passive, year round protection, 24 hours a day, 7 days a week, for greater "peace of mind". This system has been tested to withstand up to 140 mph windloads and can be used on virtually any structure, whether it be commercial or residential. It is extremely durable and may be cleaned with almost anything, including commercial strength ammonia and Windex. If a door or window is shattered by wind, debris or crime, the 3M Impact Protection System is designed to hold shattered glass together, in place, in the frame, much like the windshield of your car.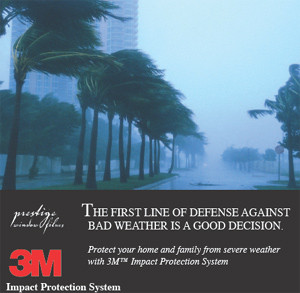 Nothing can prevent glass from breaking; however, upon impact, this system is designed to reduce the risk of openings in the glass, and the window separating from the frame, to help prevent wind, water and debris from entering the structure. Also, it deters street crime by protecting against forced entry.
And, this system is available in solar controlling versions to reduce heat, sun, glare and harmful UV rays. In fact, these products are eligible for Federal energy tax credits. 3M is very committed to green initiatives!
Keeping your family and home out of harm's way is our safety system's first and most important task. The impact of unwelcome elements, like severe weather, vandalism and unexpected accidents, are all reduced with the 3M Impact Protection System. This system also helps reduce damage and injury from indoor accidents, such as children running into or throwing things at glass doors and windows.
In coastal areas, such as ours, the potential for glass breakage during tropical storms and hurricanes is particularly high. 3M Scotchshield Ultra Safety and Security Films are an excellent, invisible choice for improving security, because they seal out wind and water even when the glass is broken.
Recognizing the need to develop a film that provided superior tear resistance, 3M developed the Scotchshield product to surpass the performance of thicker monolayer standard PET films. This patented microlayer process gives the film a "rip stop" action that distances 3M from the rest of the "fragment retention" film providers.
In fact, the 3M films meet the Factory Mutual ™ Small Missile requirement and wind load requirements and the highest performance levels of the Federal Government's GSA requirements Level 2 and 3.
3M™ Scotchshield Films 3M™ Scotchshield Films vs Storm Shutters
3M™ Scotchshield Films
Forms a watertight barrier if glass does crack
Prevents glass shards from causing damage and injuries
3M™ Scotchshield films protect windows
Protection 24 hours a day, 7 days a week
3M™ Films are invisible to the eye
Maintenance free, easy to clean
Adds to the look of your building/home
No structural work is required
Is a fraction of the cost of shutters
Energy saving of up to 12,000 BTUs/hr per100 square foot of sunlight windows during daylight hours
Screens out up to 99% of the sun's ultraviolet rays and cuts glare in half
Protects against fading of merchandise, fabrics, carpets and furniture
Storm Shutters
Does not prevent water from entering
Does not prevent glass shards from causing damage and injuries
May break windows in a hurricane by bending inward
Leaves your windows defenseless unless you have time to close them
Shutters in the down position alert burglars that the building/home is vacant
Shutters may require electricity to go up and down; they can rust also requiring manpower
Detracts from the look of your building/home
Structural work is required
Many times as expensive as 3M™ Scotchshield
Cannot use during daytime- no energy saving
Does not protect against ultraviolet rays and distracting glare
Does not protect against sun fading