Serving the Georgia and South Carolina
Nation Wide, Mexico, Canada, Puerto Rico and Cancun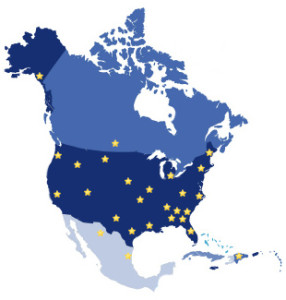 Coastal Installations is owned and operated by a progressive, professional team of management dedicated to building a world class company. Started in 1999 by an experienced duo of window laminate experts, Dennis Fusco and Kimberley Gardner Fusco, Coastal Installations created a unique national business model – one of the only window film companies in the United states with sales and installation capabilities in the entire country and internationally.
Beginning as an authorized Prestige 3M™ Dealer for all of South Carolina and Georgia, Coastal Installations has grown its team into the nation's largest and now services customers nationally and internationally. We have installation capabilities in every major metropolitan area in the United states.
Call us at 800-952-2725 or REQUEST A QUOTE for a free on-site estimate. Also, receive 10% off of your 3M Window Film installation by requesting a quote online.
CALL US TODAY TO DISCOVER WHY Coastal Installations IS THE PROVEN LEADER IN RESIDENTIAL, COMMERCIAL AND IMPACT PROTECTION SYSTEMS!