Protect Your Property with An Added Layer of Protection.
Windows and glass doors are among the weakest points in your building envelope. If the glass breaks, your building will become unsafe for occupants and also disrupt business operations. 3M™ Safety and Security Window Films are engineered to minimize injury to people and protect property from a number of safety and security concerns including but not limited to:
Natural disasters
Seismic events
Spontaneous glass breakage
Bomb blasts
Forced entry
3M™ Security Window Film has been shown to deter intruders for up to
2 minutes
3M™ Safety and Security Window Films are designed to hold the broken glass together while the attachment systems bonds the filmed glass to the frame, keeping it safely there in the event of breakage.
On average, businesses incur a total of $95 billion in losses each year from natural catastrophes*. Installing 3M™ Safety and Security Window Film along with the recommended 3M™ Attachment Systems will help to fortify your windows and glass doors against outside threats and minimize injuries and losses.
Protect People and Upgrade to Code Cost Effectively.
Building code may require that glass in certain hazardous locations, such as those near wet surfaces, doors, floors, ramps and stairs, meet safety glazing standards. 3M™ Safety and Security Window Films can help you quickly and easily meet safety glazing impact requirements at a fraction of the cost of replacing windows. **
** 3 According to 16 CFR 1201 Safety Standard for Architectural Glazing Materials. Local building codes vary. Consult a local code official for requirement and approval criteria.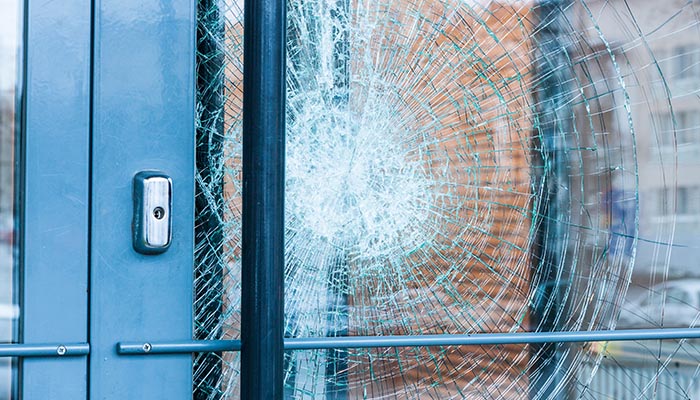 Recommended Products for Safety and Security:
3M™ Ultra Prestige Series
Combines the protection strength of the 3M Ultra Series with the sun control properties of the 3M Prestige Series to provide the ultimate protection and comfort.
Leverages proprietary micro-layer, tear-resistant technology to enhance security and provide an added layer of protection.
3M™ Standard Safety & Security Series
Provides protection and minimizes injury to people and property from flying glass.
3M™ Impact Protection Attachment Systems
Adds a higher level of protection by securely attaching filmed glass to the frame to create a robust shield.
Looking for other solutions?