Commercial Window Safety 3M™'s Impact Protection System
3M provides Commercial Safety Control for:
Destructive Weather Conditions
Smash and Grab Burglaries
Terrorism
Explosions
Unexpected Accidents
Hurricanes
3M's Impact Protection System helps maintain the integrity of a structure's outer shell to keep wind, rain and flying glass shards from wreaking havoc inside the building. Our system also rejects harmful UV rays, which cause fading and, the sun control versions help lower energy costs. Request a no obligation, free consultation & estimate at your residence.
Proven, Affordable Solutions Your Shield for Better Safety, Security, and Accident Prevention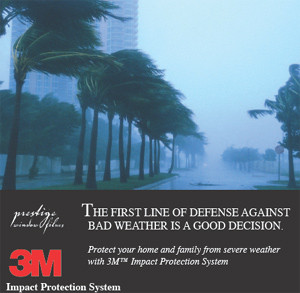 The 3M Impact Protection System for glass is a virtually invisible safety system, applied to the interior of the glass, and bonded to the frame of each window. Once applied, this system provides passive, year round protection, 24 hours a day, 7 days a week, for greater "peace of mind". This system has been tested to withstand up to 140 mph windloads and can be used on virtually any structure, whether it be commercial or residential. It is extremely durable and may be cleaned with almost anything, including commercial strength ammonia and Windex. If a door or window is shattered by wind, debris or crime, the 3M Impact Protection System is designed to hold shattered glass together, in place, in the frame, much like the windshield of your car. Nothing can prevent glass from breaking; however, upon impact, this system is designed to reduce the risk of openings in the glass, and the window separating from the frame, to help prevent wind, water and debris from entering the structure. Also, it deters street crime by protecting against forced entry. And, this system is available in solar controlling versions to reduce heat, sun, glare and harmful UV rays.
3M™ Scotchshield Films3M™ Films vs Bomb Blast